Western Slope Go Club
Not much info here yet.

Email: jake@edge2.net for more information.

Current roster:
---
News
---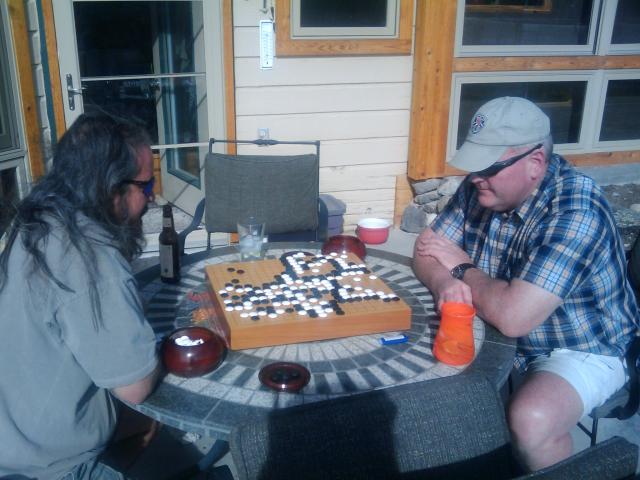 1 March 2009 - a couple of games at Jake's house in Rifle, the weather was lovely as was the Go. See picture at right.

---
Kannah Creek was the site of another meeting on 17 January. Jake won the first game, giving 6 stones to Brad. Then in some sort of blitz game, it appeared that Jake won, but no real counting was done. We met another Go player though. Jake is headed to the tournament in Boulder on the 31st, possibly Brad as well.
---
Yet another Go get together was held in Rifle on 30 December. Three games were played, all with Brad getting six stones. He won the first, then we adjourned to town for sushi, which must have made him sluggish as he lost the next two.
---
Another meeting was held at Kannah Creek in Grand Junction on 21 December ... three games were played ... 2 at 5 stones, 1 at 6 with Jake taking all 3 ...
---
Elk Hunting and Go - October 2008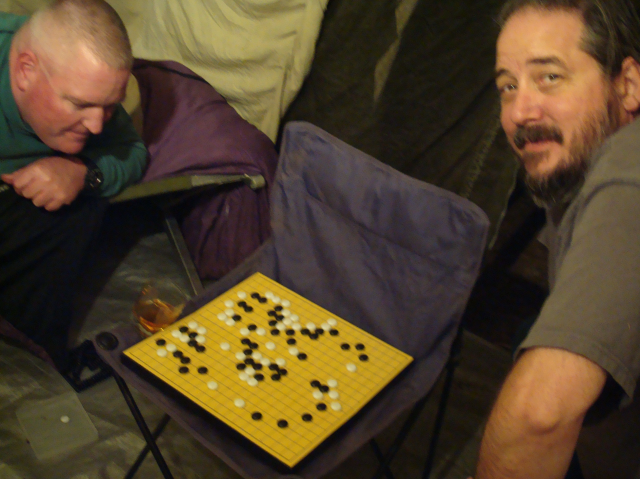 A bit of Elk (and Deer) hunting on the north rim of Glenwood Canyon in mid-October was the setting for another round of Go games. At left is a game played in the tent as it got rather chilly after dark.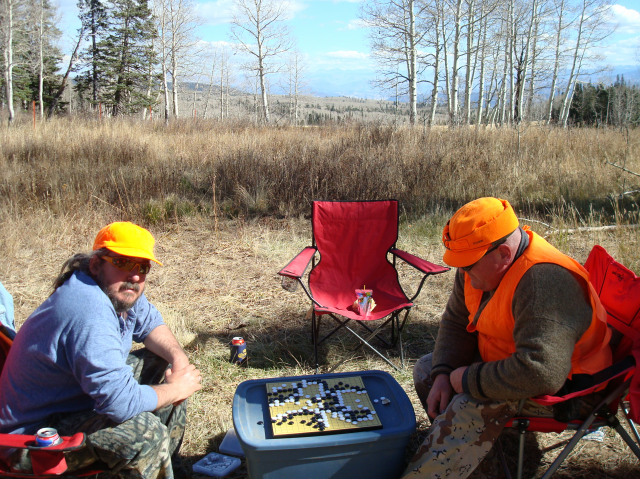 Another game, played during the mid-day lull, can be seen at right. In all two 4-stone handicap and two 5-stone handicap games were played with Jake taking all four. The location was beautiful at about 9600 feet, lat/lon: 39 37.183N 107 14.842W, satellite view here.
Photos courtesy of Brad Yenter.
---
On 10 August 2008, we met at Borders in Grand Junction at noon, then went over to Kannah Creek Brewing around 2ish ... finished up around 430. Jake beat Brad twice giving 4 stones and lost once giving 5.
---
As of 29 July 2008, we are currently playing irregularly in Rifle and Grand Junction.
---